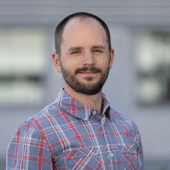 Johan Schagerström
Hardware and software developer – R&D
I have worked at Ferroamp since 2014, joining right after my master thesis at KTH. At that time the company size was only 8, and we weren't really selling anything yet, and the product portfolio was only the EnergyHub Wall. I was given the opportunity to really be part of building up the product portfolio and going into production.  
I'm working with both embedded software development and electronics design which gives a holistic understanding of the products. It is also fun to have a more varied work. Sometimes I sit for days in the lab working with high voltage, running tests or even soldering, and sometimes I just hammer the keyboard implementing some new feature. The most fun part of my work is visiting partnering companies and make our products work together with theirs. 
I'm working at Ferroamp because I like to feel like I'm making a difference. The world needs advancements in cleantech and it fills me with joy every time Ferroamp is presented a new prestigious award.