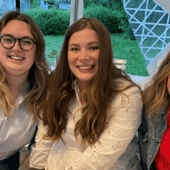 Elin Nilsson
Marketing Specialist – Marketing & Communication
I started working at Ferroamp in February 2022 and I am responsible for Ferroamp's graphic profile, company's webpage, social media and coordinate marketing activities such as our fairs. At Ferroamp, we are a great team that works together and across departments.
In addition to my fantastic colleagues, the best thing about working at Ferroamp is the opportunity to make an impact and grow. Ferroamp has been named one of Europe's fastest growing companies with its innovative green technology and there is only more to come. I look forward to the journey that we have ahead of us.
In my spare time, I like to organize dinners and theme parties for my friends and family. I'm also pretty competitive and love game nights, especially when we have music quizzes.