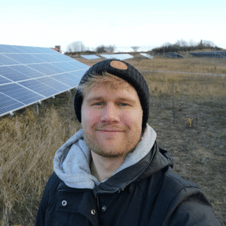 Joel Valdemarsson
Solutions Engineer – Sales & Customer Service
I've been at Ferroamp since February 2021 and I'm currently working as a Solutions Engineer within the Customer Solutions and Services department. My role includes helping our customers design EnergyHub-systems, developing an education program and participating in various projects. 
I love going (biking) to work everyday knowing that I get to hang out with my wonderful colleagues and at the same time help our customers create amazing energy solutions for their facilities.

In my spare time I enjoy going to the cinema and spending time with my friends. If I were to win a million dollars I would probably spend most of it on buying a life time supply of my favourite food; X-tra Allt Grandiosa Mexicana.